Magento 1 Extension Installation
The Magento 1 installation process consists of the following steps:
Download the extension package.
Install the package to Magento Instance.
Configuring database connections for Sales Cube (in case if Sales Cube functionality comes with the extension).
Setup crontab configuration for the scheduler.
The downloaded Magento 1 extension package could be installed in different ways:
Option 1: using Magento Connect Manager
Option 2: manually using FTP/SSH access
Download the Magento 1 Extension package
After purchasing the license (read "Obtaining Extension License" section of this documentation) the extension package should be available on the Downloads page. To open the Downloads, navigate to "Downloads" menu on the Account page on www.bimproject.net. Just select the latest version and the appropriate package to download.
Option 1: Installation with Magento Connect Manager
In order to install extension package you need Magento Admin account with access to Magento Connect Manager. Log into your stores admin console and navigate to System → Magento Connect → Magento Connect Manager. At this point you will be prompted to re-enter your administrator credentials. Once you are logged into the manager you will see form for uploading the package archive file under the section "Direct package file upload". Simply choose the downloaded package file from your file system and press "Upload" to start the installation process.

Picture: Magento 1 package installation dialogue
Sometimes if some error occurs during the installation process, your system may stay locked in maintenance mode. In order to turn off the maintenance mode you can remove maintenance file from core directory of your Magento store.
Option 2: Manual installation (recommended)
Extract downloaded extension package archive file on some temporary folder on your local machine or on the remote server with Magento Platform instance. Using your ftp client or ssh (scp) copy all of the extracted files onto the store root of the Magento instance.
After copying the files go to the admin page System → Cache Management and click on "Flush Cache Storage".
Sales Cube database configuration, M1
Create database for DWH storage in MySQL 5.6 or MySQL 5.7.
Add "bim_dwh" connection information to local.xml.
"bim_dwh" should point to the newly created MySQL database for DWH storage.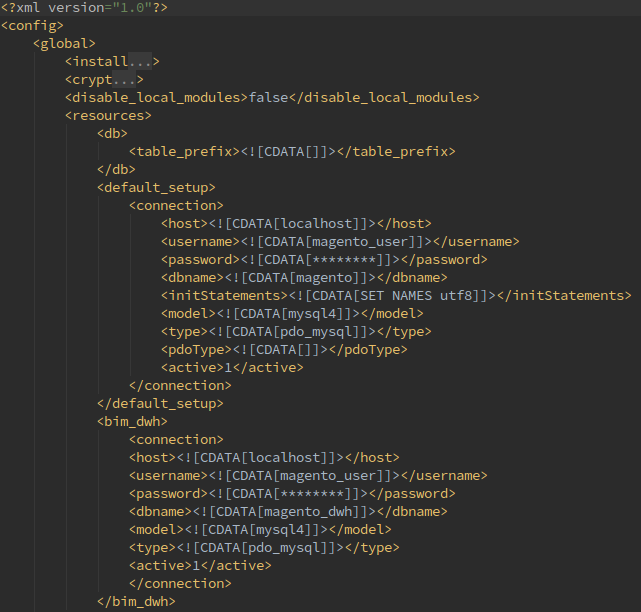 Picture: Configuring database connections for Magento 1
Setup crontab scheduler, M1
Run by crontab the following command every minute:
shell/bim_etl.php scheduler

Below you will find the example of the corntab configuration (type "crontab -e" in command line to start editing the crontab configuration).

Picture: Configuring crontab scheduler job for Magento 1