BIM extension for Magento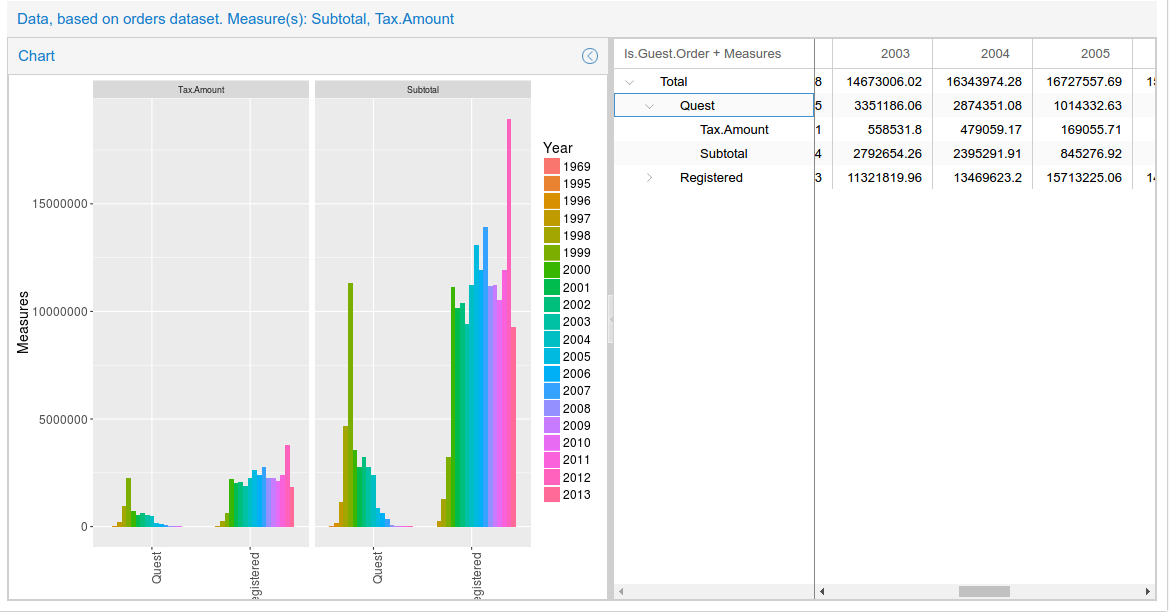 The extension BIM implements simple solution for presenting business intelligence dashboards within a Magento store. Without need to pay for and integrate additional software, it provides online analytical processing solution even for Magento stores with long history of orders. Read more...
Customers Support
For our customers we provide bug-free guarantee for main functionality and Installation services. Technical support is delivered at no extra charge for the duration of the product support period. You may find more information under the links below:
Our customers may use our IT Support Portal to report problems they face during the usage of the module and we will make out best to solve the issues.
Services
Solution we are working on is targeting business that want to extract information from their data without involving a lot of resources into BI development. We offer out of the box analytics for Magento store, that could be improved and customized by your request. It could be used as powerful framework for creating data analysis. Also, all data may stay on you servers, so it is essential plus for your data privacy. Read more...
For companies, who build their internal business applications based on web technologies, it is naturally to implement also BI dashboards using the same web frameworks. Usage of R as back-end for statistical calculations and rendering of data might replace usage of BI software. We may help to apply our solution of integration of R into web application for your organization. Read more...
BIM can use both, PHP and R languages for data integration. It is also possible to add additional data from other sources and analyze it or combine it with Magento data for more extended analytic. Read more...
BIM Support and Customizations
Customers can order premium IT support if they wish to increase priority for their bug fixing requests, requesting new features or having better response time for their requests. We also provide customization of BIM module. BIM is made as flexible framework to support extension by adding new Magento modules. Read more...
Power BI Integration
Additionally to complex on-premise BI solution, we offer also a solution based on integration of Magento with Microsoft Power BI service. PBI extension for Magento is based on the information that is already available inside Magento. It sends aggregated data from Magento Reports into Power BI Online by configured schedule. This allows fast setup of Reports inside Dashboards Power BI with extra oppotunities such as accessing the data from Mobile devices and setting up notifications. Read more...
About the author
BIM extension for Magento was started as venture project within a Gold Solution Magento Partner company FLAGBIT GMBH & CO. KG located in Karlsruhe and after transfer of ownership to the author in 2016 year, it reached the market.
Author of the BIM extension for Magento is experienced Magento extensions Developer with background in statistics and management who is working currently in BI team and developing software for aviation industry. Read more...