Sample Report 7. Today's performance
Report Description
This operational report lists the new orders, invoices, refunds that were created in the store today.
Embedded interactive report
Report Content
Report example with data will look like this: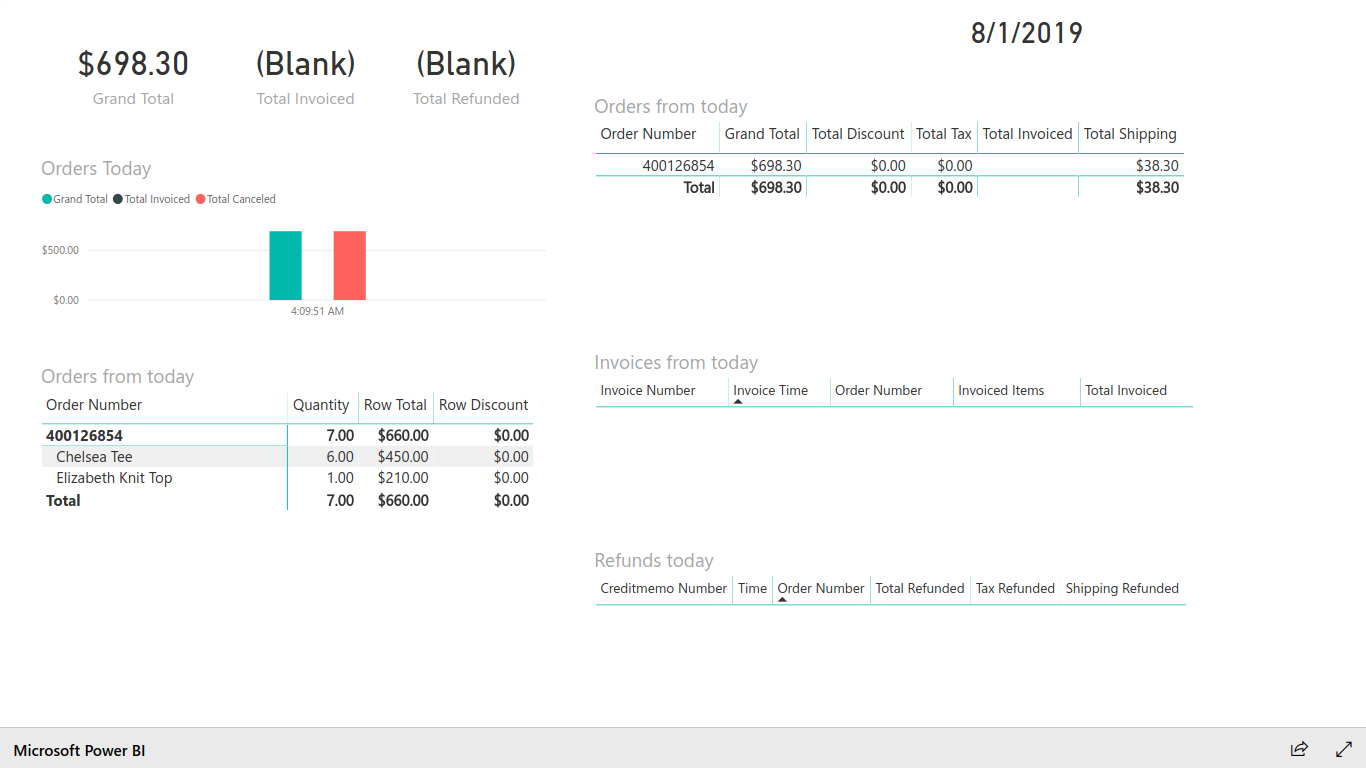 KPIs: Grand Total, Total Invoiced, Total Refunded for current day.
Timeline with orders / invoices / refunds created today.
Tables: lists of orders / invoices / refunds from today and extra list of orders with their products.
How it works?
This report is created based on data from Magento e-commerce platform. Any online store build with usage of Magento (1-st or 2-nd version) can have this report installed with Power BI integration extension for Magento that enables business intelligence functionality in Magento store.
The report is hosted by Power BI Service from Microsoft. It is connected to a dataset, created and published to Power BI Service by Power BI Sales Cube extension installed on Magento e-commerce platform.
The report automatically updates its data every hour. it is based on demo magento data where several new orders are generated every day.
The process of data update involves:
incremental latest data extraction
incremental update of sales cube data warehouse structure
incremental loading of latest data to Power BI via REST API
Such report may be accessible by different Power BI users of the same organization. Also, users may access it using Power BI Mobile App on Android, iOS or Windows Phone.
How to get this report for your Magento store?
The report is based on Sales Cube dataset provided with Power BI Sales Cube extension for Magento. After installing the extension, user may create and configure dataset with Magento data that will be avialable in Power BI Service. The extension comes with a report template for this report.
Easily edit or create more reports
This report is intended to provide out of the box functionlity together with Power BI Integration extension. And even though, this report could already bring value to the business, it is just an example of what could be created based on Sales Cube dataset. It could easily be edited and adjusted to comany needs.
From simple reporting to more advanced analytics, integration with Power BI opens lot of possibilities for Magento merchants.
Check out more examples of reports and read about Power BI Intergration with Magento platform to get more information on how this and other reports can help your business.