Sample Report 11. Product Price Change Magento Reporting Extension
Report Description
This report helps to track product price change over time for a specific product. The report includes two pages. The first page helps to find the product and lets the user select a specific product. The second page displays how the price of the product evolved during the time.
Embedded interactive report
Open Product Price Change report in Power BI
Report Content
Product price change report - product selection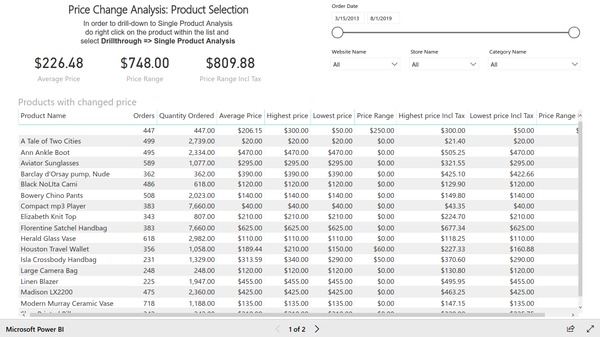 First page of the report provides an overview over the product prices. Here every marketer or sales manager can choose the product he or she wants to examine further. Only one product can be chosen at a time. Magento 2 business intelligence management system is a must have for your online website store.
The first page of the Product Price Change report includes the following useful filters for the managers:
Filters by order date, website, store and by product category;

KPIs: Average Price, Price Range, Price Range including Tax (price range in this case is the difference between maximum and minimum product price);

List of products that have their price changed over time. This list includes multiple measures that help to estimate how significant the price change was.

User needs to select a particular product that needs further analysis. To go to the next page the user does right click on the product record and selects menu Drillthrough -> Single Product Analysis.
Product price change report - single product analysis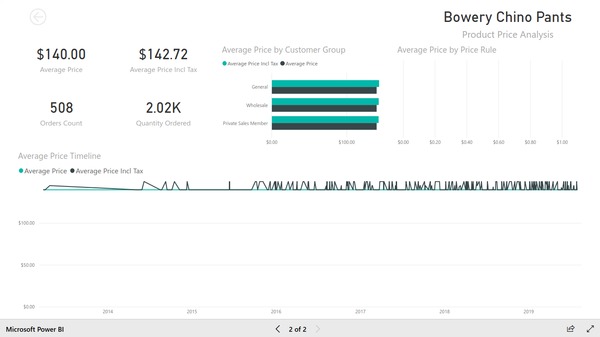 Magento reporting extension is an outstanding tool nowadays. The second page of the report is dedicated to a single product of your choice. Here you can provide the deepest investigation which will surely help in understanding the reasons why the price of this item or service has undergone changes.
This page includes the following:
KPIs: average product price, average product price including tax, orders count, ordered product quantity.

Average price by customer group chart

Average price by applied price rule chart

Timeline with product price with and without tax.
How It Works?
The core aim of cost alteration investigation is to develop the most lucrative ways that in future will boost your revenue. Retailers and managers after this research can reach the highest return on investment. Magento Power BI will come in handy here.
When considering how to approach the main pricing decisions you, as a manger or a business owner, should take consideration of the following vital factors:
Payments and products paid in the customer's cart. To be aware of what was paid and what products were refunded by the customers of your online store during a certain period of time helps you, as a retailer, to get rid of unnecessary items in your shop.

Customers' viewpoint of the product's cost. When you find out how much value your buyers place in goods they pay, business owners produce informed pricing strategies and the best decisions for their future.

Personal perception and intuition. A good merchant sometimes can rely on a personal vision of how much this or that item, product or service may cost. The main thing here is to avoid over or underestimation.
To stay confident in your chosen pricing strategy, consider getting yourself familiar with the tactics that worked best before. This method helps people in determining which approach is most promising and unrisky for the company's future development.
Choose this report and the benefits for your firm will not keep you waiting! Find out more useful information on how to run your business with the help of Power BI reports by consulting us directly.