Details
Integrate your Magento store with Power BI Service, cloud-based business analytics service from Microsoft that allows you to have a single view on your most critical business data, at any time, from any place.
Interactive Reports
Use data delivered from Magento to create Interactive Reports and Dashboards in Power BI Service from Microsoft.
Mobile App
Access your reports and dashboards anytime with Power BI Mobile App
Data Alerts
Setup alerts and get notified on your mobile phone or per email when you reach (or not reach) certain performance threshold.
Deliver your Magento Reporting data to Power BI on scheduled bases
Based on Power BI REST API
Use Power BI Integration Extension for your Magento store to allow native and straightforward data delivery directly to Power BI using Microsoft Power BI REST API.
Configurable schedules
PBI extension allows you to configure different data to be delivered on regular schedule or in Live mode to allow you updating the data within weekly, daily, hourly or even with several minutes intervals.
Configurable and dynamic data periods
Flexible data configuration allows to send data only for the period you want to monitor: it could be latest days, weeks or months, previous day, YTD values or other desired configuration.
Stay under 1 GB with FREE account
Microsoft offers free accounts with 1 GB limit. You may increase this limit with subscription for Pro account. Since you have possibility to deliver only portion of data you need, you may stay with free account. Control the size of the data by using aggregated reporting data.
Simple setup
No need to install any additional software or hardware. Native integration is done explicitly using web interfaces provided by Microsoft.
To get up and running with Power BI, all you need to do is:
1. Install Extension on your online store running on Magento
2. Register and authenticate a Power BI extension on Microsoft services to get Client ID and client secret key
3. Configure Magento extension by providing Client ID, client secret key and setting desired schedule for data delivery
Now you can start to deliver data and using Power BI to create reports with most important data to you:
Open desired Magento Report and press use "Export to Power BI" option
Configure newly created Power BI Export profile and press "Export" button to deliver the data
Go to Power BI Service and start creating reports and dashboards
Finally, install Power BI Mobile App and access your data with your mobile device
Normally you should be able to do initial setup without need to purchase any services from Microsoft.
User Guide
Find more detailed information about how to use the extension in our documentation pages.
Or use PDF version of our User Guide: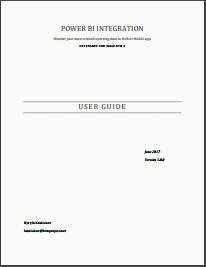 Feel free to contact us if you have any questions.