OData API
OData API Overview
OData API provides an additional way of accessing sales data of Magento platform based on Sales Cube (and other datasets in the future).
OData supports wider range of BI software, so it is not only limited to Power BI.
With OData API you might be able to integrate Magento data with other BI Vendors. Among the list of BI software vendors that support OData are:
Power BI
Qlik
Tableau
Tibco Spotfire
MicroStrategy 10.5 supports now OData via Data Import
Dundas
SAP
Targit
Our implementation of OData API is tested against Power BI and is not guaranteed to work with other software. Please, contact support if you wish to utilize the OData API using other BI software.
OData connectivity might be used to create very customized reports which will be harder to create with default Sales Cube data model. Also, it could be used for other cases where more data manipulation could be done before reports creation. This includes possibilities to introduce custom grouping, custom data transformations and merging with other data sources.
Using OData API, users may add their Magento data to a Power BI Service Dataflow.
Activating the OData API
Usage of OData requires installation of Power BI Sales Cube Magento extension with OData support. Please, request access to this functionality if it is missing in your installation.
Navigate to Magento Configuration page (Stores -> Configuration) and select BIM EXTENSIONS -> Power BI Integration -> OData API section.
Set "Enable OData API" to "Yes" to enable the API.
Set "Enable OData API Log" to "Yes" if you are facing issues with usage of OData API. This will write the communication with OData service to the log file that could help to resolve those issues with our support.
Option "Sales Cube preparation schedule" is useful if your data needs to be refreshed periodically in order to be prepared for being read through the OData API. Read more details on it in the section "Scheduling data actualization for OData API".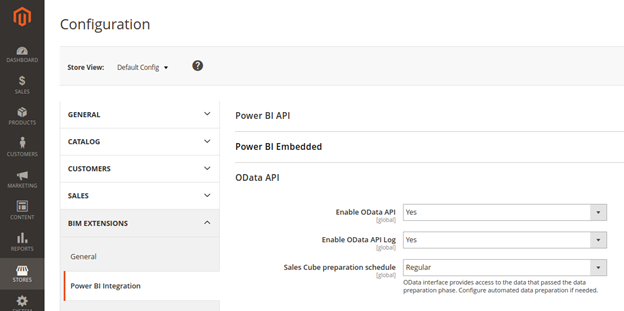 Picture: OData API Configuration for Magento Platform
Activating OData access to a dataset
Once you have created your dataset, you may activate access to this dataset through OData. In order to do this, save the dataset with option "Accessible via OData API" set to "Yes".
Setting "Shared Access to OData feed" to "Yes" would allow other admin users to access the dataset via the API. If this option is left with its default value "No", only the owner of the dataset will be able to access it. If only certain user group should be able to use the API, the access control list could be modified by disabling/enabling "BIM OData API" resource.
Please, note that data for the dataset could only be read after data preparation will be run for the dataset. In order to trigger the data preparation, you may click on the "Start data preparation now" link under Data Preparation Schedule field.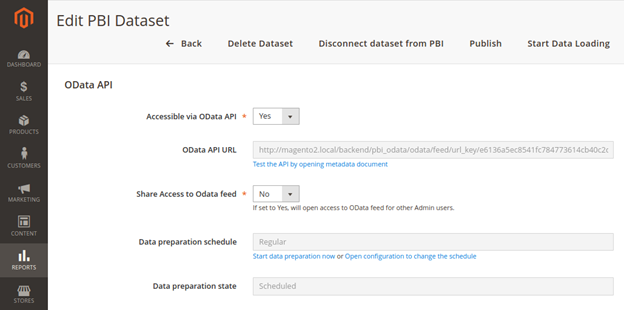 Picture: OData API Section inside Dataset properties page in Magento Platform
Scheduling data actualization for OData API
Data that is available through OData interface is not just the underlying data of the Magento system. It is the data, prepared for the analytical processing. And it is stored separately from the original data.
The data preparation step will move the data from Magento operation system into a small Data Warehouse for father reading for analytical purpose. Simple schematic of this process is presented on the picture below.

Picture: Data Preparation in Power BI Integration process
Therefore, such data preparation should happen every time before the data is accessed via OData API. This data preparation process is very smart and will only process the new data that was not processed before.
Such process could be triggered by the schedule. In case if the dataset is loading to Power BI by the schedule, such data preparation is already scheduled. It should not even be the same dataset. This data preparation is done for all datasets at once.
For such cases when automated loading of the data to Power BI datasets is not activated, users can configure data preparation step especially to keep data prepared for OData access. In such cases, users can navigate to OData API configuration section as described in "Activating the OData API" section before and select desired schedule in the option "Sales Cube preparation schedule".
Alternatively, users can always trigger the data preparation manually. This could be done on dataset properties page by clicking on the small link "Start data preparation now" under Data Preparation Schedule field.